Webmistress note: the full article was a comparison between the early careers of Zak Starkey and Julian Lennon. I have included here only the parts that are relevant to Zak (inaccuracies and all!)

THE CHILDREN TAKING A LEGEND INTO THE EIGHTIES
In our fathers' footsteps
by the Sons of The Beatles
In a deserted house with its windows boarded up, a 14-year-old boy sits behind a massive drum kit pounding out the rhythm for a raucous heavy rock band.
The drummer, flailing smoothly across the tom toms, cymbals, double bass drums and high hat, with a crumpled mop of hair is Zak Starkey.
[Julian and Zak's] spare moments away from schoolwork are devoted to music, Julian practising on his acoustic and electric guitars, and Zak pounding his drums - the same instruments their fathers played.
Zak bravely but naively wants to make it without any help from his father. Until now, both have tried to keep away from the name of The Beatles, avoiding mentioning their fathers' jobs and keeping their musical lives away from the media spotlight.
While Julian ... only recently has enjoyed the benefit of a few tips from his father, Zak has had one of the best drum teachers in the world - his own father.
Ringo has shown him all his drumming skills, and once he picked up the rudiments, he didn't have to slog away on a third-rate kit. Keith Moon gave him his own massive outfit worth more than £1,500.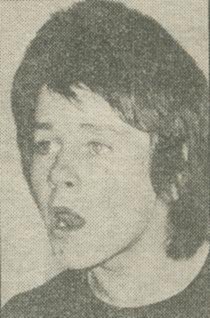 He may be the youngest member of his group, The Next, but as he sits behind the white drums and gleaming cymbals, he not only drives the band with some of his father's old flair but he also argues strongly as the band discuss their plans for the future.
Although The Next have made only one appearance at a private party, and are now trying to get bookings in pubs and clubs in the Bracknell and Windsor area, they have made a tape of their songs at Ringo's studio in Tittenhurst Park Estate.
Unlike Julian, who dresses conventionally in jeans, shirt and sweater, Zak wears bondage trousers covered with zips, trendy T-shirt and a black leather bomber jacket.
In spite of the fact that his father has given the group free studio time, and encouraged Zak to develop his drumming for a career in showbusiness, Zak says he wants to make it alone.
"I don't want any help from my dad. I want to prove that I can do it by myself. He hasn't done a thing to help me, and I don't want him to.
"I practise every weekend with The Next, because we believe that if we stick to it and keep improving then we can make it."
WORDS: Simon Kinnersley PICTURE: Mike Hollist